Get Well Flowers
Availability may be limited.
Please put a note in the "Special Instructions field"
if it is ok to substitute.
.
Get well Balloons and Stuffed anamals are also avalable!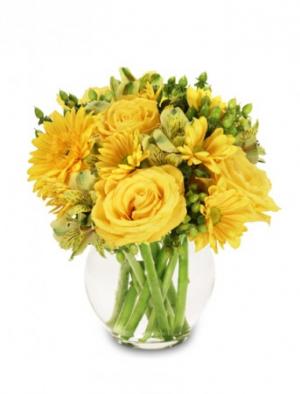 Sunshine Perfection
Floral Arrangement
Talk about a ray of sunshine! This bunch of yellow roses, alstroemeria and gerbera flowers in a simple vase is a burst of happiness. Let this flower arrangement spread some sunshine to the perfect people in your life.
$45.00, $50.00, $55.00
Shown at $50.00
Hospitals and Health Care Providers in Our Delivery Area:
---

Name
Address
Phone

---

Bethel Lutheran Home
1515 2nd Ave W Williston, ND. 58801
(701) 572-6766
Mercy Medical Ctr
1301 15th Ave W Williston, ND. 58801
(701) 774-7400
Roughrider Retirement Inn
12 1st Ave W Williston, ND. 58801
(701) 572-7556
Trails West Manor
2420 2nd Ave W Williston, ND. 58801
(701) 572-2574
Williston Housing Authority
1801 8th Ave W Williston, ND. 58801
(701) 572-2006
Tioga Medical Ctr
Po Box 159 Ray, ND. 58849
(701) 568-3624
Tioga Medical Ctr
Po Box 159 Tioga, ND. 58852
(701) 664-3305
Trenton Indian Housing
Po Box 155 Trenton, ND. 58853
(701) 572-6792
Good Shepherd Home
709 4th Ave Ne Watford City, ND. 58854
(701) 842-2331
Mc Kenzie County Memorial Hosp
Po Box 548 Watford City, ND. 58854
(701) 842-3000